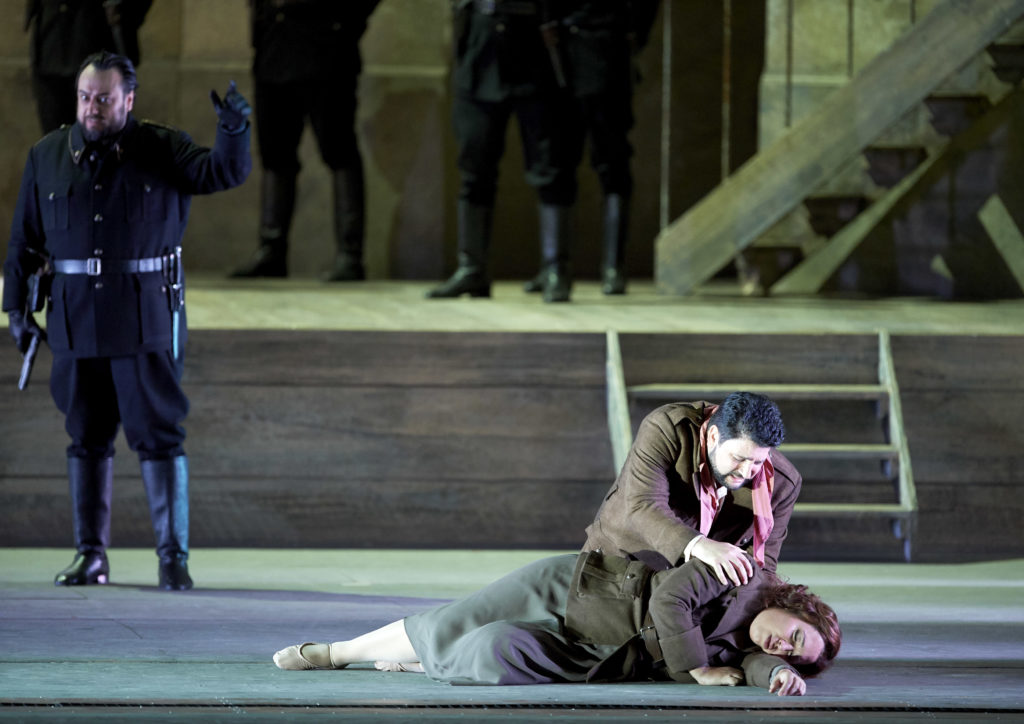 Cards on table. Il Trovatore isn't my favourite Verdi. The plot seems too far-fetched, preposterous: the son of a Count rescued from a fire by a witch- the troubador Manrico, who falls in love with Leonora, the beloved of Count Luna, his arch-enemy. Unbeknowingly 'Blood Brothers'. And it's so bloodthirsty, with witch burnings, eye-gouging gore. And yet this gothic intrigue, of its time , so appealing to 19th century audiences, is much for our time. Against the demonization of witches, Azecuna, is so powerfully portrayed, she's sympathetic.
We seem to miss the psychologically complex characters of Verdi's later operas, yet this action drama is thrilling stuff, an exercise in Verdi's orchestral colour. And the choruses are amongst the greatest in all Verdi.
Well, time for a rethink. Il Trovatore, of a trio of brilliant successes -flanked by Rigoletto (1851) and La Traviata (1853)-has been rather eclipsed: misunderstood, condemned for its sensationalism. Perhaps unappreciated for its unconventional, almost 'modernist', episodic format. As to Verdi's incorporation of witches and gypsies- part of the 19th century obsession with mystery and the supernatural- could be seen as Verdi's genuine interest in the 'underdog', the socially marginalised . Verdi espoused 'freedom fighters' against the corrupt political establishment. So Manrico, brought up by a so-called 'witch' Azecuna, is caught up in the 'civil war', along with 'the gypsies'.
The episodes/Acts switch between establishment, aristocratic protagonists, and the dispossessed, alternative society, the itinerants. Manrico is a troubadour, a street singer, after all.
If any production needed to convince us of Il Trovatore's worth, this Vienna State Opera production (Daniele Abbado) was it. And conducted by a great Verdian, Marco Armiliato, with a star cast.
The stage (Graziano Gregori) is 'traditional', a courtyard- sandstone-effect walls, bleached-wood – with balconies on either side. The soldiers' uniforms, in the opening scene are vaguely modern. Ferrando, (the tremendous Korean bass Jongmin Park) incites his men's hatred of gypsies, narrating the 'official' Luna family history. He sings of a 'grisly old woman- clearly a witch- staring, with blood-shot eyes at a little boy'; and how 'the old hag' was driven out. What joy to hear lusty Verdi choruses- sung with robust fervour by Vienna State Opera Choir- even if it's an exercise in machismo, and the message is racist. In the folklore of rumours and fear-mongering, some have seen the witch (Azecuna's mother) crawling the roof tops, rat-like.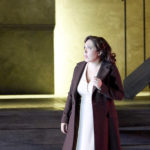 By contrast, Leonora (soprano Maria José Siri) is dressed in white, and a rose-pink over-gown. In her aria, she sings (to her maid) her man was revealed to her as if in a dream. Tacea la notte placida. One serene night suddenly she heard the sound of a troubadour singing a melancholy song, like a man appealing to God. Siri is warmly expressive, endearingly self-effacing, her pure soprano technically accomplished. The earth was transformed into heaven. Then, filled with apprehension, her voice rising, if she cannot live for him she will die for him.
Count Luna (George Petean), opening 'The Duel' episode, wears a red-brocaded coat. Petean, black-haired, bearded , looks swarthy; his magnificent baritone is a highlight. He sings, every fibre of his body is crying for her. But his reverie is jarred hearing the sound of the troubadour off-stage. (In the plot, Manrico approaches Leonora in the arms of Luna, 'whom Leonora, in her excitement, had mistaken for Manrico'!) A trick of fate has brought him to her, she sings. Tenor Yusif Eyvazov (on very good form without Netrebko) appears in a crumpled beige suit. The men come to blows, in their jealousy, a duel takes place. Luna is overpowered, Manrico about to fatally stab him, is inexplicably held back.
'The Gypsy'. Azecuna, movingly sung by mezzo Luciana D'Intino), is on all fours in the middle of a group of soldiers taunting her. Again the soldiers' (Anvil) chorus- bravado male bonding, preparing for battle – is irresistibly catchy. Who brightens up our days, what gives them their courage, a young girl. (The soldiers are carrying an effigy of a saint.)
Azecuna (who nurses the war-wounded Manrico), sings in her aria, Stride la vampa the hair-raising story of her mother's burning at the stake, surrounded by her executioners. D'Intino's mellow mezzo is plaintive, vulnerably human. Verdi's aria is sympathetic.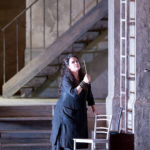 D'Intino, gothic long black hair, carried away in emotion, hits terrific high notes singing how she felt a shudder through her at the death of her child. No, the Count's son perished, her own survived, she assures Manrico. She urges him, every drop of Luna blood shed is revenge for her mother.
In Verdi (and librettist Cammarano's) dramatic counterpoint, we switch back to the ruling classes. In Luna's aria , believing Manrico is dead, Petean powerfully confesses his fear of Leonora entering a convent. He plans to abduct her, abetted by his soldiers, positioned in black uniforms on each side of the stage. He sees the Church as his rival- and deranged- seizes a crucifix. When Manrico appears- as if from the dead- it's seen as a 'divine judgement'. Leonora, Siri, in a poignant aria, sings to 'he who offers consolation.' And, as if in a dream, is confronted by her Manrico. The staging is spectacular, with Luna's men raising – but refusing to use – their rifles, while Leonora sings to Manrico come from heaven, with Luna powerless to stop their escape.
An old woman is caught wandering around the camp. In a frightening scene, Azucena, caught in the soldiers' ropes – lassoed like a steed- is interrogated. She sings, her aria a cri-de-coeur, D'Intino almost appealing directly to the audience. She has been poor all her life, but happy; everything she did was for her son, but he left her. Never has a mother loved so dearly. Then Petean's Luna -reminded by Ferrando about the Count's son captured fifteen years ago- realises she's Manrico's mother, and he's in his power.
Fearsome! There's a very real-looking fire in a trench at the front of stage- giving off smoke- and various men with burning torches. They turn her round and round in a gruesome ritual.
From the subplot, the marginalised, to the main protagonists: the aristocratic Leonora absconded with Manrico, the gypsy's son: a bold subversion of the social order. Siri and Eyvasov in their duet are outstanding. 'At such moments , you must allow sublime love to speak to your heart'. There's a lot of feeling from Eyvasov. He kisses her affectionately (perhaps imagining his wife?) His spirit will be fearless if slain by his enemy, he sings.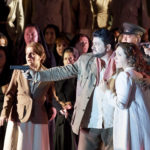 They are interrupted by news that 'barbarians', the Count's soldiers, have lit the funeral pyre. Eyvasov sings, Di quella pira, with impressive high notes, his heart is inflamed by the horrible blaze.
The scene shifts to Luna, planning a victory celebration, and plotting revenge. Where are you, heartless woman? Leonora begs him to have pity on Manrico: Drink my blood , but spare the troubador. His fate must be crueller than cruel, counters Petean. Più l'ami e più terribile divampa il miu furor! the more you love him , the worse will be my anger. In their duet, she almost screams, but you shall have me, cold and dead. Finally, submitting, she sings, she can tell Manrico that she it was who saved him. Petean gloats- repeat you are mine! ( She is his; he can hardly believe it.)
Beginning the execution scene, the stage is strewn with blooded corpses. Realismo! The tower where prisoners are held. In Leonora's aria, her mournful sighs will fill his dungeon with hope, D'amor sull'ali rosėe; offstage, Eyvasov's troubadour song.
A staircase out of the back of stage. Mother and son tortured. It is harrowingly moving: mother can't you sleep? Eyvasov, not quite the show-stopping virtuoso tenor, rather sombre and soulful. D'Intino's Azecuna sings, a dreadful weariness torments her.
Luna allows Leonora to persuade Manrico to escape. He reproaches her. What was the price? She, how cruel and unfair you are to me. In their sublime duet, she confesses she has taken poison; Eyvasov's Manrico now tormented by his curses. Siri, with great pathos, she preferred to die with him than live with another.
In the nemesis, Luna orders Manrico's execution. To be told by Azecuna, he was your brother; you are avenged mother.
The ending is Shakesperean – Hamlet, Titus Andronicus– a senseless blood letting , without remorse, the fulfilment of blind Fate. As opera it's as great as any Verdi masterpiece. I thank Vienna State Opera for my conversion.© PR.13.09.2017
Photos: George Petean ( Count Luna), Maria José Siri (Leonora) and Yusif Eyvazov (Manrico); Maria José Siri (Leonora); Luciana D'Intino (Azecuna); Simina Ivan (Ines), Yusif Eyvazov (Manrico), Maria José Siri
© Wiener Staatsoper /Michael Pöhn