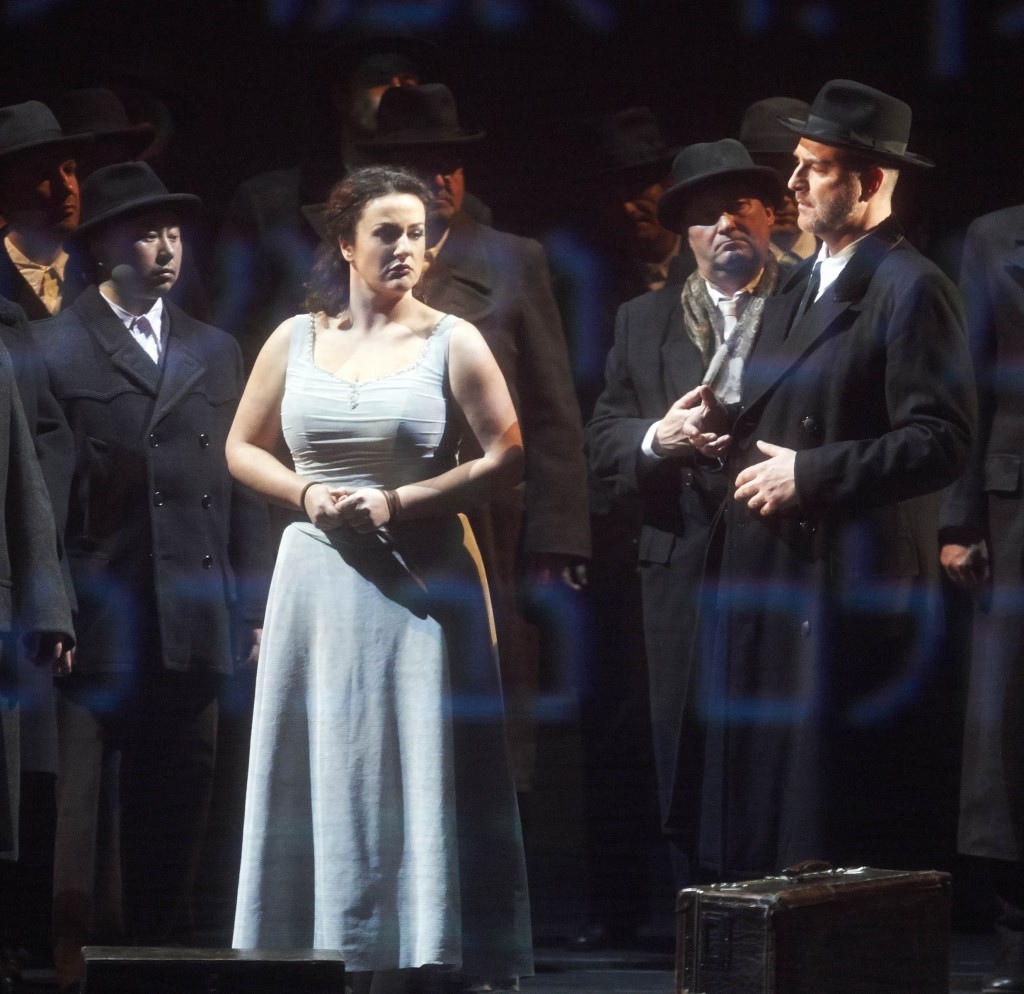 What seems like a documentary black/white photo tableau comes to life to show the Vienna stage lined with Nazi war refugees carrying suitcases , and with Hebrew text projected onto a screen. Vienna State Opera (director Günther Krämer ) has transposed Verdi's opera Nabucco ,about the Israelites' struggle under their Assyrian oppressors, to a twentieth century context. (Nabucco, King of the Assyrians, has occupied Jerusalem, the last Israelites are holed up in the Temple; Nabucco's own daughter held hostage, rescued by the Jew Ismaele, her once captive lover.)
Another modern-dress production? Here, why not. Nabucco's subject is of a people downtrodden by alien political masters. And surely Verdi intended the opera as an allegory for the Italian Risorgimento against its foreign occupying powers, (especially Hapsburg Austria.)
In the first Act , the stage is dominated by a black -veiled screen , which fills up with Hebrew script, as if running a biblical commentary to what's happening on stage. Verdi peppers the ominous events with a love interest. Nabucco's daughter Fenena , captured by the high priest, had once helped Ismaele escape from Babylon where Abigaille, Fenena's jealous sister, had held Ismaele. That Fenena herself is now rescued by Ismaele triggers the love intrigue. Blocking the Priest's attempt to kill her, Ismaele flees with Fenena , but is spurned by his own people. Ismaele is torn between love and kindred loyalty, a familiar theme in Verdi.
Abigaille, in her scheming a Lady Macbeth figure, later usurps her sister Fenena, made Babylonian ruler in Nabucco's absence. For Abigaille, 'the throne is much more than the loss of a father.' Abigaille is powerfully sung by Maria Guleghina, a formidable physical presence, her soprano in magnificent voice.
Opening Act 3, the Hebrew script fades away, as if to resemble tears falling- a pathetic fallacy for the tears of the Israelites. With Abigaille Queen, the Jews are again in captivity. Israel must die, demands Assyria's high priest, a death warrant for the Jews.
Now for Nabucco's famous chorus , Va pensiero , my beautiful homeland is lost, where the sweet breezes gently flow… After its sensational success in 1842, Va pensiero became a symbol of the national hopes of the Italian people, Verdi a prophet of the Risorgimento. (The Prisoners Chorus was to be an unofficial national anthem until 1862, when Italy's independence was proclaimed. ) Nabucco became emblematic of patriotic theatre.
Krämer's staging is particularly poignant. The chorus , dressed as refugees, hold up placards, showing enlarged photos of loved ones. And later, in Act 4, Nabucco (Zelijko Kucic) , symbolically lays these photos of war victims. 'God of the Hebrews , forgive me !', Nabucco exclaims, picking up photos as an act of contrition. (Nabucco undergoes a spiritual regeneration, repents his life , his attempted murder of an entire people.) Nabucco intercedes to prevent the further extermination of the Jews, and grants freedom to all. The Jews are urged to return to Israel and build a new life.
Verdi clearly used the Israelite/Assyrian narrative as political allegory. So updating Nabucco (slaves) to holocaust refugees is hardly inappropriate. (Vienna State Opera similarly used stateless Jewish refugees in Schoenberg's Moses and Aaron.) Manfred Voss and Peter Bucholz' sets in Nabucco are no less effective: sombre in their simplicity, eschewing the sensational, (with no swastikas.) Left of stage, a glass cabinet exhibits gold treasures to represent the false gods of the Philistines (and ours.)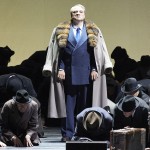 But there's more to Nabucco beyond the biblical epic, with its contemporary political resonances; the monumental crowd scenes, the thrilling choruses. The intimacy in Verdi's arias reveals something deeper. As in Aida, the characters' personal torments are played out against the public spectacle. It takes exceptional singers to justify Verdi's subtle characterisation, pointed up in Verdi's score, (Vienna State Opera orchestra and choruses under specialist Jesus Lopez-Cobos.)
In the love triangle mezzo Monika Bohinec's Fenena and tenor Carlos Osuna are routine -well sung , but dull. But Maria Guleghina's Abigaille explodes on stage. In a brilliant blue silk gown, in her Act 1 aria: 'Brave warrior, is love all you can fight for. What god will save you?' Guleghina , a tremendous soprano, thunders, she will have her revenge: love is a fury, it's life and death. Her ultimatum to Ismaele : 'If you love me, I will save you people.' But he rejects her, satisfied with his lot. 'Save him, and leave me to my tears!' she despairs. (In counterpoint, from personal lives to public epic, it's announced the King has razed the temple.)
Nabucco, sung by Zelijko Lucic, no newcomer to the role, and frequently in Vienna, is the other outstanding performance. We hear said of Nabucco that, in his arrogance, he defies the whole world. Lucic, distinguished looking in a fur-collared coat, proclaims, Zion will perish in a bloodbath. This accursed people will be wiped out! Father have pity, Fenena pleads for Ismaele's people.
But for Verdi (and librettist Temistocle Solera), there's more to this tyrant than a case history of megalomania. End of Act 2, proclaiming the moment of wrath is approaching, Nabucco announcing he has overwhelmed the Babylonian god, commands 'Worship me as your god!' Lucic, standing on top of the showcase of holy treasures, seems to crumple up, as if struck by a thunderbolt. Vulnerably human, he beckons Fenena help him in his weakness: Why am I weeping, he sings.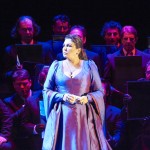 Abigaille's aria , opening Act 3, is a highlight of the opera. She opens her father's letter revealing the secret that she is the daughter of a slave. A slave and worse! My fury shall fall on all of you , she threatens. She'll destroy Fenena, her father, and all the Israelites. Then, Guleghina, seated on the stage, sings movingly, accompanied by a flute solo, she once knew happiness, love: she wept another's tears, suffered another's grief. And, heartrendingly- ending on an astonishingly high note- who will restore one single day of enchantment.
In the last Acts, Verdi depicts Nabucco sympathetically as a tragic figure. Abigaille, now acclaimed by the Babylonians, but blackmailed by the High Priest, demands all Jews be killed. Guleghina, perched over the religious treasures, orders, lock the old man in his room. Nabucco, like Shakespeare's King Lear, is hounded out by a callous daughter.
The interaction of Guleghina and Lucic is gripping dramatically: operatically, their alchemy is on another level. Nabucco appearing unkempt, and still deranged, tries to re-impose his authority. (He orders Abigaille – Verdi's music now subversively jocular- to 'bow down before her master.') But he's tricked into signing the Jews' death warrant. She now tears up his letter (proving her slaves' descent.) Pity the shame of an old man, he sings plaintively, forgive a father's foolishness: Deh pardona.
Nabucco, awakening dazed (Act 4), sings movingly of a terrible dream. He sees Fenena in chains , and realises he too is a prisoner. The white -haired Lucic covers his head in bewilderment. He bids forgiveness of the God Jehovah, Dio di Giuda! . Lucic is harrowing in his portrayal of the unruly king, driven mad, but humbled, penitent, seeing the world in a new light. Nabucco pleads 'deliver me from suffering, and I will profess my faith in you.' His mind begins to clear, his prayer answered. Nabucco arrives; Fenena and the condemned Hebrews are praying; we see a fire on stage; the statue of Baal crumbles to dust. Nabucco orders 'O, Israel return to your native land!'
By contrast, Abigaille's, death scene, to sparse orchestral accompaniment, is given an intimate intensity. Guleghina, dying poisoned, sings poignantly, begging forgiveness, fearing the Lord.
The cast, overall outstanding, were inspired by Jesus Lopez-Cobos's conducting (Vienna State Opera Orchestra and Choruses.) The rousing choruses and expressive playing could hardly have been more authentic in Milan where Nabucco premiered. P.R. 14.05.2015
Photos: Monica Bohinec (Fenena) and Michele Pertusi (Zaccaria); Zelijko Lucic (Nabucco); Maria Guleghina (Abigaille)
(c) Wiener Staatsoper /Michael Pöhn