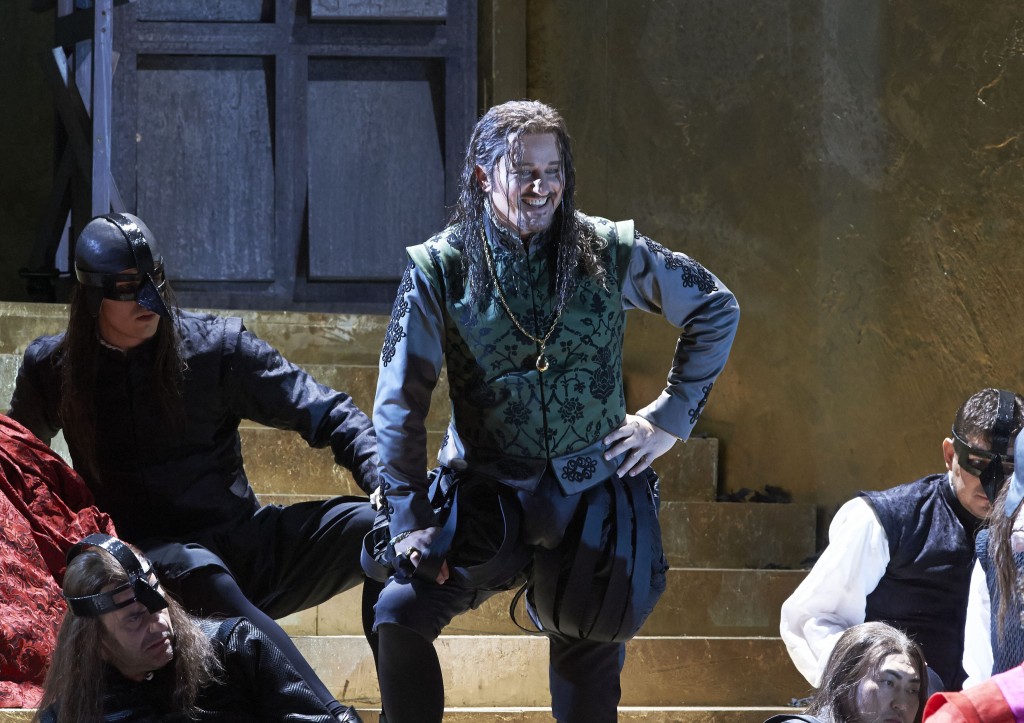 At Vienna State Opera, a new production ( directed by Pierre Audi) of Verdi's Rigoletto. The first disappointment was that Simon Keenlyside had been replaced by baritone Paolo Rumetz as Rigoletto. And, in a barely intelligible pre-performance announcement, Rumetz had a cold. Rigoletto and his daughter Gilda (unexceptional soprano Erin Morley) are the crux of the opera. Even with bravura tenor Piotr Beczala as the Duke. So the performance was bound to be out of balance, showcasing glamour at the expense of the inner drama.
The second disappointment was Vienna State Opera's new set (Christof Hetzer). We're greeted by a snow-clad barren landscape, with stunted trees, stark branches. There's a staircase leading to a wooden hut. The black/white grey monotones- Japanese influenced minimalism- are broken by a burnished copper back panel, like a late Turner impressionist painting. At least the costumes are 'period'. But which? Rather 19th century frocks, the men's breeches more 17th century- a mishmash.
Beczala, however, is splendid in the Duke's opening aria: He takes his pleasure where he finds it (Questa o quella). He's wearing a long wig- moustachioed like a Cavalier- and looks rakish, flirting with Count Ceprano's beautiful wife. Beczala's supremely confident, effortless virtuoso tenor, is made for the role. He dominates a very raunchy staging-a ball- the masked courtiers playing fast and loose with the ladies in long, low-cut gowns.
Paolo Rumetz, short, white-haired, appears rumbustious, firing wisecracks. But Chorus sing the Jester has a mistress; 'the cripple has transformed into a cupid', they mock him.
Count Monterone (Sorin Coliban), his incredibly deep bass from the depths of hell itself- wearing a blood-red silk outfit- interrupts the orgy. A dream from hell has led him there. He complains the Duke has seduced his daughter. Monterone, seized by the Duke's soldiers, Rumetz taunts him with his sword. Monterone curses both Duke and his jester. Sensational playing from Vienna State Opera Orchestra under Myung-Whun Chung.
There's a very rapid scene change -(too fast !)- to Act 2. 'The old man placed a curse on me,' (Quel vecchio male divami!) sings Rigoletto repeatedly. Rumetz- out of his court garb- is seen with Sparafucile, the assassin, Ryan Speedo Green flashily dressed in black: dark glasses, bearded, villainous looking in a black cap. They're under a raised hut, the desolate landscape now darkened.
Rigoletto's seminal aria Pari siamo 'We are alike, the assassin with his dagger, he with murderous tongue' is constantly interrupted by the refrain, 'The old man put a curse on me!' Verdi's Rigoletto is a tragic figure depicted with psychological realism. 'How terrible to be a cripple; a clown deprived of everyman's right to weep. How he hates those scheming courtiers!' Yet Rumetz failed to move me.
Upbeat flutes anticipate 'the other person in his life.' A wooden cage is lowered, containing a young woman, table and chairs. Yes, Gilda is virtually held captive by her over-possessive father, but this is too obvious! She only leaves the house to go to church: she's never seen the town.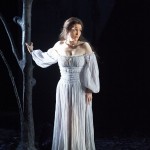 'At least tell me who my mother is' Erin Morley, a brunette, in a white gown, sings angelically, 'Calm yourself father!'- Rigoletto, 'Only you are left to me! I am your father, that's enough!' Morley is well-sung, but characterless. In her aria, (she sings to her maid), the young man she meets in church is handsome, so refined. She wouldn't want a nobleman. (The duke is disguised as a student.) Dreaming and waking her heart thinks only of him.
On cue appears Beczala in Titian-blue silk top. The god of love has inseparably bound his fate to her, he croons. In am outpouring of rhetoric, like a Petrarchan sonnet, 'Fame, glory and power fade away…so let us love, divine creature!' – 'Tell me again you love me!'- He, 'Adio, Adio, you alone will be my hope..' Adio, she repeats. Now Erin Morley in her aria Gualtier Malde , to a limping version of his theme, sings of his beloved name Caro nome, emblematic of the delights of love. Morley, in a charcoal grey cloak, is delightful in a superficial way, her soprano exercising her register, an excuse for coloratura.
While she's singing, her cage is lowered, and 'cavaliers' lounge around like dossers. Rumetz stumbles upon them. They sing of abducting Ceprano's wife. But in the heist, he's duped, blindfolded, bundled off in a cask. Verdi's magnificent all-male chorus sings 'Quietly let us take our revenge. We'll steal his mistress and he'll be the laughing stock at court.' Vienna State Opera Chorus can do Verdi like no other (outside Italy.) But why this dismal staging?
Act 3 opens in what's supposed to be the Duke's palace (here like a rehearsal room of stage panels.) Beczala sings, where can my angel be. Due to her purity, he was overcome by virtue…It's almost convincing. (But he's the incorrigible lecher in the last Act.) Believing his own rhetoric, Beczala is carried away by his gorgeous tenor. Empty, but applauded, ironically!
The chorus, his courtiers, sing jauntily, 'Together walking down there at nightfall, we discovered a beauty, Rigoletto's mistress!' They sing of how their Prince's mood has changed. 'Love summons me. I fly to her!' Beczala to the rescue, his gleaming white teeth like a matinee idol.
Rumetz as the grief-stricken Rigoletto is – after the recent triumph of Leo Nucci here – frankly disappointing. Rumetz wears a white top with ruffed collar instead of jester's harlequin. Rigoletto's appeal for his daughter should be hardly bearable. 'Cowardly courtiers, you can have everything for money,' is simply lacking the power required. 'I can only weep'; he appeals to one courtier's kind heart. He's bumbling, fumbling, pathetically enacting his tragedy; but the voice is not up to projecting it musically. Low key even against the (superb) cello accompaniment. 'Give me back my child!'-but his anger isn't conveyed (against these courtiers he once dominated.)
With Gilda, 'It was just a prank. But why are you weeping!'- 'The disgrace!' In her powerful aria Gilda confesses every day in church she met her student. 'Then he left, and I was filled with hope.' But although perfectly sung, Morley is superficial. Rumetz sings how he fought to keep her from corruption; and poignantly 'Weep my child to my heart'. Sorry, it's not Verdi's overwhelmingly moving father-daughter bonding.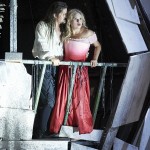 Act 4 (and the white/grey abstract stage curtain) reveals a Japanese structure, white screens either side. Upper floor of Verdi's 'inn' Maddalena (Elena Maximova) wears a red-lined cloak. Beczala's Duke-disguised delivers the La donna e mobile aria, magnificently swaggering. 'Her pretty face is false, whether weeping or smiling.' Arrantly sexist, misogynist, but it's sung with panache: Beczala's male peacock besotted in self-glory, revelling in his own voice. 'You must know I love only you,' sings Beczala. ('Traitor', sings Gilda off-stage.) Then Maximova's buxom blond in bright-red silk frock is sitting outside at a café table. She's dangling her legs. They're almost making love- while Gilda beholds them, side-stage, in torment.
'You see how he lied to you': Rigoletto with Gilda, will make sure she's avenged. Again the La Donna refrain 'woman is wayward'.
'The moment of vengeance is here at last'. (Mysterious night, a storm in the heavens.) The body-sack is dragged out of Sparafucile's cellar. 'Just take a look at me, the Jester! Now he's at my feet.' Then the Duke's refrain from the inn. The voice a delusion? Then the realisation that it's Gilda -whom he'd sent away – in the sack. My daughter, impossible? Yet there's hardly any modulation to Rumetz's register, just going through the motions.(What a contrast to the unbearable intensity of Nucci's rendering.) Even Morley hardly convinces as the dying woman. She'd deceived her father, died for her Duke. 'Do not die, you must not leave me alone.' -'In heaven', her reply softens celestially.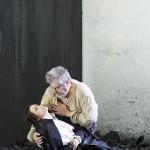 It didn't move me. And the applause-over after only the minimum curtain calls-indicated that the Vienna audience weren't all that impressed either. P.R. 30.12.2014
Photos: Piotr Beczala (Duke of Mantua); Erin Morley (Gilda); Piotr Beczala (Duke) and Maddalena (Elena Maximova); Paolo Rumetz (Rigoletto) and Erin Morley (Gilda)
(c) Wiener Staatsoper / Michael Poehn