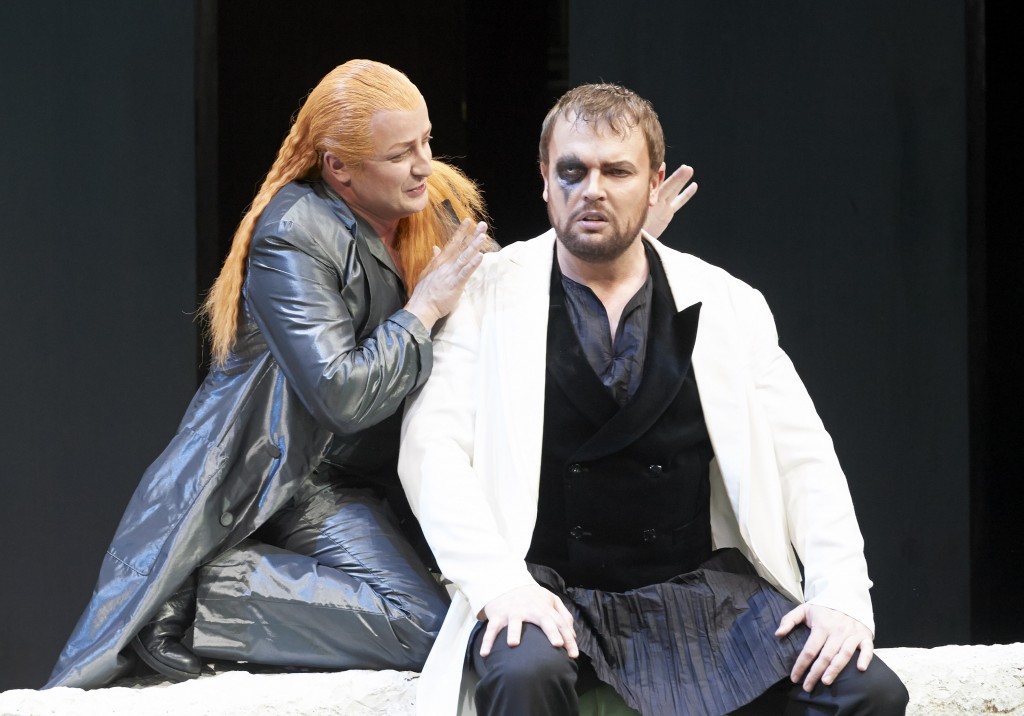 For Wagner's operas, it isn't enough to assemble the finest soloists, the best orchestras and chorus. Wagner intended his Ring cycle as a Gesamtkunstwerk, total music drama. So the staging is crucial to the mix. Epic, surely, befitting the interplay of the gods; but the mythology, timeless defies any specific époque, archaic, or modern. And, please, no silly designer concept to detract from onstage drama!
Sven Bechtholf's production, first staged Vienna State opera 2007, nearly succeeds. In the opening, Das Rheingold, Rolf Glittenberg's sets are monumental, but minimalist, but the costumes are sometimes distracting.
The orchestral Prelude (Vienna State opera orchestra under Adam Fischer ) built to an unbearable tension. Anticipating the appearance of the Rhinemaidens -white-clad figures on rocks bathed in a grey moonlight, beneath them an effective tarpaulin covering like waves. Their arms sway in semaphore as if they are controlling the waves. Alberich (Jochen Schmeckenbecher)- squat, toad-like, repugnant- they cajole him, teasingly. A sulphurous dwarf, he may be, but they're fishes after all, he counters. Alberich is bare torsoed, with long, greasy hair, wearing baggy pants. A Rhinemaiden pushes him over: the dwarf lies beneath them, the Rhinemaidens towering imperiously over him. They entangle him in swathes of their long scarf-like material- seaweed. It's like a sado-masochistic ritual. These are the ultimate in superdames, their gowns now under green light.
There's a wooden structure- in fact, housing slabs of gold- in which Alberich is messing. Alberich's curse is that only he who renounces love can avail himself of the gold. Nur wer der Minne Macht entsagt, sings Woglinde to Wagner's famous tubas. (And, Wellgunde, whoever can fashion a ring from the gold will inherit the world.) So they taunt him, come Alberich, come smile at us! Now the three maidens retreat into what look like giant mushrooms, or toadstools. So verfluche ich die Liebe: he curses love and goes for gold.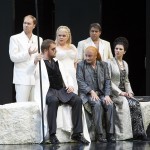 A long orchestral interlude. A brilliantly white stage, Wotan seated on what looks like an iceberg. Oh, mein Gott! Tomasz Konieczny, in a black shirt, grey mohair trousers, a white duster coat, appears to be wearing shades: in fact a black eye patch. His wife Fricka (Elisabeth Kulman) is in a shimmering silver creation, black inset, silver grey cloak with snow-flake motif. (They're all, the rest of the Valkirie gods, in brilliant white.) She'd warned him. He's (Wotan) contracted the giants Fafner and Fasolt to the building of their palace. Now they demand their prize, her sister Freia. The other gods defend Freia, but Wotan -the god of treaties- must keep his word. 'Gier'. It's all about greed.
Freia (Caroline Wenbourne) is all in white. The two builder giants are like blown-up Giacometti sculptures (or, if you like , Michelin men): they're wearing latex in a carbon coal-like effect. Silver, yet shaven-headed, the giants are dignified, sympathetic. Fasolt (bass Sorin Coliban) and Fafner (Ain Anger) are distinguished singers.
The moral: the richest -even the gods- can breach their word when it comes to (not) paying workmen and servants.
Donner, god of thunder, (Boaz Daniel) picks up an oversized ice pick and challenges Fasolt and Fafner. Loge, the cunning god of fire, Norbert Ernst in a shiny black DB suit, and with orange shoulder-length hair, looks like a rock star. In the plot, Alberich, now Mr Big, has stolen the Rhinegold. The giants agree to release Freia, who they drag away, for Alberich's gold. So Wotan and Loge set of to trick Alberich…
Third scene change. Centre stage glass cabinets showing human parts- limbs and legs. With a diamond effect stage backdrop, it's all very high -tech, the smoked glass panels bathed in a red light. Alberich's Nibelungs are melting a hoard of gold, his minions like coalminers, but with orange helmet LED lamps. They lie in a heap at his feet; then they're off suddenly scampering like vermin.
Alberich's brother Mime, (Herwig Pecoraro), who created the magical Tarnhelm, writhes in agony at Alberich's invisible whiplashes. Alberich, in boasting to Wotan of his magic powers, turns himself from a dragon into a toad. But the crawling Kröte is crushed and seized by Wotan, to whom he must surrender gold, Tarn-helmet and Ring.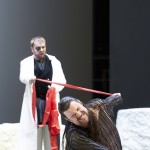 It's an unfair contest, the god Wotan resorting to trickery for greed. Schmeckenbecher, a lyrical tenor, actually engages our sympathies -against Konieczny's perfect- if overbearing- Gott figure Wotan, an arrogant mobster with his eye patch! (Alberich screams and curses the Ring: Verflucht sei dieser Ring (besides power, it will bring death and misfortune.)
Back to the white wasteland of Valhalla, the floating icebergs. The court of the gods, all wide lapels, wide (flared) bottom trousers, all in white, could be out of a 1970s Abba video. But they're not a nice lot. Rather a Lars Von Trier family saga of greed, lust and incest.
Wotan is admiring that expensive ring on his finger. Looming, threatening back-stage, the idyll is threatened by the giants come for their payment, Freia as contracted. Donner (Boz Daniel) lamely threatens with that icepick; but Wotan reluctantly gives the gold to the giants. Those nasty workers -those gross giants soiling their perfectly styled designer den- have to be paid off.
We see Wotan still admiring the Ring, its allure bound up with transgression, the arcane, symbolising the corruption of power. Only when the goddess Erda intercedes will Wotan give it up.
Erda's aria is a highlight. Erda ( mezzo-soprano Janina Baechle), the voice of wisdom, represents spiritual values against their materialistic greed and power lust. She foresees everything: how it was, will be; warns of the end of the gods. Baechle is hooded, in blue, as if she's emerged out of an earth crevice. She sings movingly, yet with a quality of stillness. 'Ein düster Tag dämmert den Göttern. Dir rat ich meide den Ring! (Behind her Wotan stands brandishing the ring.) She warns him: she already knows everything. 'Keep your word!' So Freia is freed : the giants take their gold. But backstage, they fight in a dispute over the gold ; Fafner kills his brother Fasolt. The curse of the Ring is already working.
While Loge swishes away with the Ring, Wotan and the Valhalla 'family' of gods pose, as if frozen, for a photo-shoot. Donner is seen swinging his hammer(conjuring a storm), rotating his arm on the ice float. Slightly absurdly, he's in a calf-length white coat, black patent shoes- as if he's exited an A-list night club. Absurd, but it's superbly sung.
Centre stage is Wotan kneeling. Follow me, wife: in Valhalla live with me! Now I'm concerned that Konieczny hasn't quite the ballast for this role-that uncanny, superhuman, godlike power.
Loge schemes of more fun, more evil. Loge remarks, the gods crossing triumphantly into Valhalla, are hastening to their doom. The Rhinemaidens sing, give us back our gold. Treasure is only what lies deep -not the false gleam of the surface. There's allegory for you!
The elderly Viennese operalover summed it up. Konieczny was no Wotan. Not deep enough. As I'd thought , Konieczny was too human, his bass-baritone lacking rather that inhuman, unworldly quality. Konieczny, with that eye patch resembles a pirate, swashbuckling, cheeky, mischievous. And inappropriate. For the Viennese, Elisabeth Kulman's Fricka was the highlight. For me, Janina Baechle's Erda had it, that intangible , other worldly quality. Her short scenes -bewitching, enthralling- held time still. PR. 19.06.2014
Photos: Tomasz Konieczny (Wotan) and Norbert Ernst (Loge); Tomasz Konieczny and Jochen Schmeckenbecher (Alberich); Group photo used as featured image
(c) Wiener Staatsoper/ Michael Pöhn