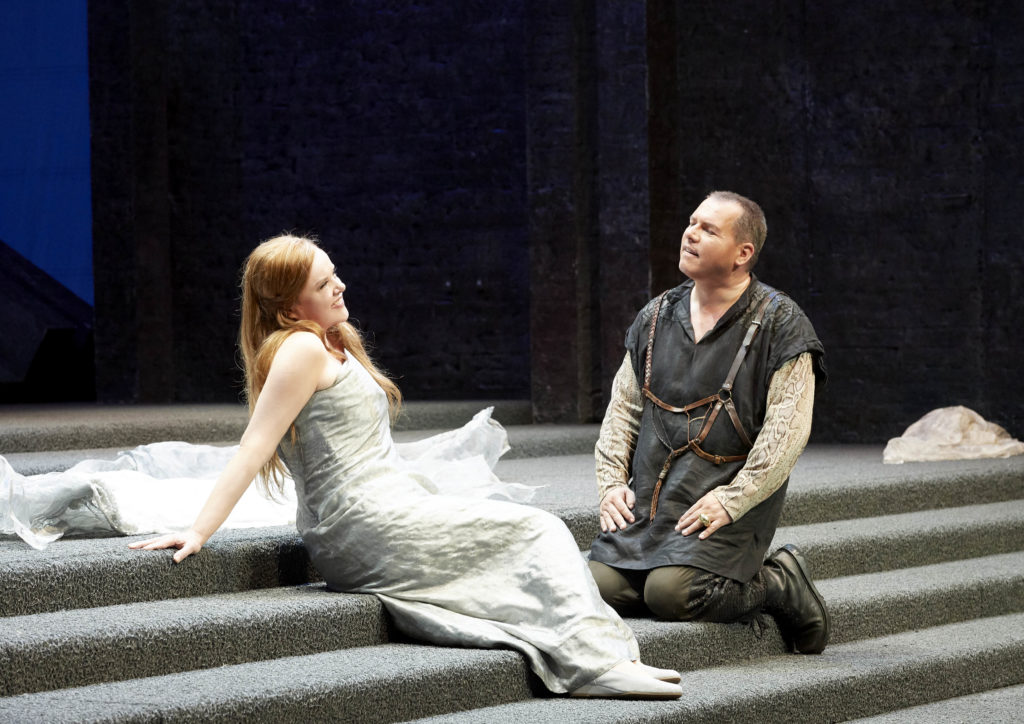 Vienna's Siegfried, in Sven-Eric Bechtholf's Wagner Ring cycle, has a minimalist staging. Rolf Glittenberg's sets are imaginative, functional, and unobjectionable. The subterranean workshop, where Siegfried's sword is being forged, like an alchemist's factory, has 1930's Flash Gordon Expressionist feel, with orderly workbenches and ventilators like clock-faces. Mime, who's brought up the orphaned Siegfried- left only the fragments of a sword by his mother Sieglinde- hopes to use Siegfried to refashion 'Notung', the magic sword, to obtain the Nibelung ring.
Stephan Vinke's Siegfried has close-cropped hair, like a skinhead; rather brutal. He sings contemptuously of washing and scraping: he hates his 'father'. A juvenile delinquent figure, he runs into the forest to escape from his master: and, strangely, communes with nature, his secret, poetic side. He cannot abide Mime, (the unfortunately-named tenor Wolfang Ablinger-Sperrhacke.) But why does he always return, mocks Mime: the young long for their parents. Then why do the young leave their nests, questions Siegfried. So far Vinke's tenor is accomplished, not yet exceptional; but Vinke develops into the role, and after his exploits, growing into manhood, by the end of Act II ready to confront the world, in Act III, in the scenes with Brünnhilde, he's sensational.
But Siegfried and the first Acts, are not to everyone's taste, and can be interminable; as relentless as the persistent hammering, climaxing Act I, as the sword is unsheathed. Ablinger's Mime is rather eccentric, not the malevolent dwarf as described . Vinke, in a black nylon smock- rather thuggish- is not at all god-like. And unfortunately, Ablinger's is not a distinctive tenor.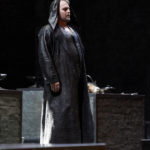 At last a voice of real distinction. A black-hooded figure – silhouetted in the doorway backstage, the Wanderer (Thomasz Konieczny): Is a guest allowed to enter? Konieczny's immense bass-baritone – regularly cast here as Wotan – is to be-wonder. Only the evil fear misfortune, he sings. Konieczny, like the great Finnish basses, has an other-worldly quality both man and god. Now tell me what race Geschlecht rules on high? The gods of Valhalla, spirits of light; Wotan, god of light, rules over them. Konieczny's Wotan as Wanderer aria is for Wagner a narrative recap of the story so far. Guardianship of the world rests with he who has the spear, he sings, referring to Notung the magic sword, and his chosen successor Siegfried.
In the action packed 2nd Act, Mime's brother Alberich (Jochen Schmeckenbecher), is exceptional in his confrontation with the Wanderer; then later in conspiring to get the dragon Fafner (Sorin Coliban) to hand over the ring. Siegfied's slaying of the dragon, represented by a huge eye backstage, Coliban spookily on stilts- is surprisingly chilling.
The highlight is Wagner's sublime Siegfried motif: Siegfried's magical power to understand birdsong. The woodbird (the ethereal soprano Hila Fatima) sings to Siegfried of the ring and the treasure. In his aria, contemplating his loneliness, Vinke looks like a bovver boy, sings like an angel. Outwardly, he's course, blunt, but rather endearing. He's an ingénue, a noble savage, trying to discover the secrets of his birth: enchanted and inspired by the wonders of the natural world.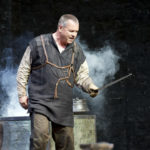 But ruthless, in an elemental sense, killing Mime without compunction in self-defence.
In the Prelude Vienna State Opera Orchestra excelled, the orchestral colours, especially horns and woodwind, absolutely sensational. Peter Schneider regularly conducts The Ring at Vienna State Opera; the huge applause was deserved.
After the claustrophobic gloom of Acts I and II and the battles against evil and its dragons, Act III come as spiritual relief. Maybe it's the feminine influence: man's misguided valour and machismo, tempered by the wisdom of the maternal , mother earth itself.
Wotan (Konieczny) wakes Erda, Ewigesweiss the eternal woman, from her sinnliche sleep. Okka von der Damerau, blonde, shrouded in white sheets, emerges from her sleep of knowledge. Wotan, the Wanderer, for all his power, angst-ridden, wants to know the hidden depths: none wiser than she. How to stop a rolling wheel, (the decline of Valhalla's gods). Why didn't he ask Wotan's child , the brave Valkyrie Brünnhilde. (Presumed against Wotan, punished, under a spell, surrounded by a ring of fire.) She, Erda, is confused: the world's path is awry. (We know!) Does he who taught defiance, now punish it? Does the defender of justice (Wotan) and guardian of oaths now shun justice? She wants out: back to her sleep. How does a god overcome anxiety? She puts him down, 'You stubborn wild man': You are not that what you think yourself. Why did he disturb her. Konieczny's Wotan sings he's leaving everything to Siegfried, who knows no fear. The god yields to the ever-young hero.
There he is, (Vinke's) Siegfried, with his back-pack. – Which way, youth, does his path lead?- Siegfried treats 'the Wanderer' with the same contempt as he treated Mime. Inquisitive old man . He's blocking his way.- If old, he retorts, then maybe he should treat him with some respect.- All his life an old man in his way! Siegfried mocks him: why is he one-eyed, and wearing a large hat?
Konieczny cuts a rather sad figure, hat knocked off, humiliated by the young stripling: he who is so dear to him. Vinke's Siegfried pulls him by the hood (while Konieczny tries to persuade him from taking that path, to Brünnhilde, rasendes Kind.) Vinke lays him low with his sword. Zieh hin!, Vinke's golden heroic tenor is resplendent. Wotan can't stop him.
Grey cliffs like concrete slabs, rocks strewn to the side, a red glow lights up the backstage. A figure lies huddled in a cocoon. This inexperienced youth is helpless: he's got that sinking feeling. How does he wake her. He goes weak at the sight of a woman lying asleep.
And all I want to know is whether Petra Lang can possibly substitute for the divine Nina Stemme, in the Brünnhilde role, Stemme the voluptuous, incandescent Nordic beauty- the soprano to beat all comers.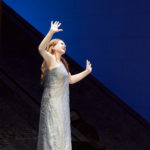 Breaking out of a tangle of white cloth strips, emerging in a grey silk dress, Petra Lang, mousey-haired, holding her eyes as if blinded by the sun. Heil die Sonne!. Lang war mein Schlaf. Who is the hero? He walked through the fire screen? –Siegfried bin ich.- Greetings gods! Greetings world! Lang. Not the maternal figure, more the maiden. But what an exquisite voice! And their interaction is superb. She beholds him: holds her hands up in awe, girlish, shy. O, Siegfried, heiliger Held! Lang is a slight figure against other strapping Wagnerian sopranos.
But she is too young. There should be a hint of taboo in Siegfried's being wooed by an older woman. (A Mrs Robinson?) Complex, interesting, and technically competent though Lang's soprano is, hers is not yet the power of Wagner's she-goddesses. You name them: Birgit Nilsson et al. It's 'Hello Young Lovers', rather than the verboten, the pleausures of the boudoir, being seduced by the femme fatale.
Lang's body language is that of the virgin. (He sings one blessed selige has stopped his heart.) Without the shield he's cut away, she's defenceless; a weak woman. His blood boils in passion. Oh, woman, quench the fire.
She protests, no god has come close to her: the heroes respected her virginity.(She was chaste when she left Valhalla.) What shame and humiliation: she covers herself with her arms. (Yet we know, in Wagner's Ring narrative, she's old enough to be his mother.) She sings, she was always concerned for his welfare (like his mother.) Oh, Siegfried , laughing hero, leave her be. Siegfried, radiant youth, Liebe dich und lasse dich.
Bu she is outstretched on the stage, singing O Siegfried , I have always been yours. -Then be mine now. Auge in Auge , mund in Mund, he sings passionately. Now divine peace overpowers her. Her eyes devour him. Is he not afraid of the wild passionate woman? He's quite forgotten his fear. (Wagner's Siegfried leitmotiv soars) Let us laugh and love. Leuchtende Liebe, Lachender Tod. Radiant love, laughing death. They rush into each other's arms.
It was, especially Act III, a triumph, moreso for being unexpected. Vinke , a fresh, youthful, unconventional Siegfried, Lang quite enchanting. And Konieczny, in Vienna, claiming the role of Wanderer as his own. P.R. 6.5.2017
Photos: Featured image, Stefan Vinke; Petra Lang (Brünnhilde) and Stephan Vinke (Siegfried) ; Thomas Konieczny (the Wanderer), Stephan Vinke (Siegfried); Petra Lang
(c) Wiener Staatsoper/ Michael Pöhn