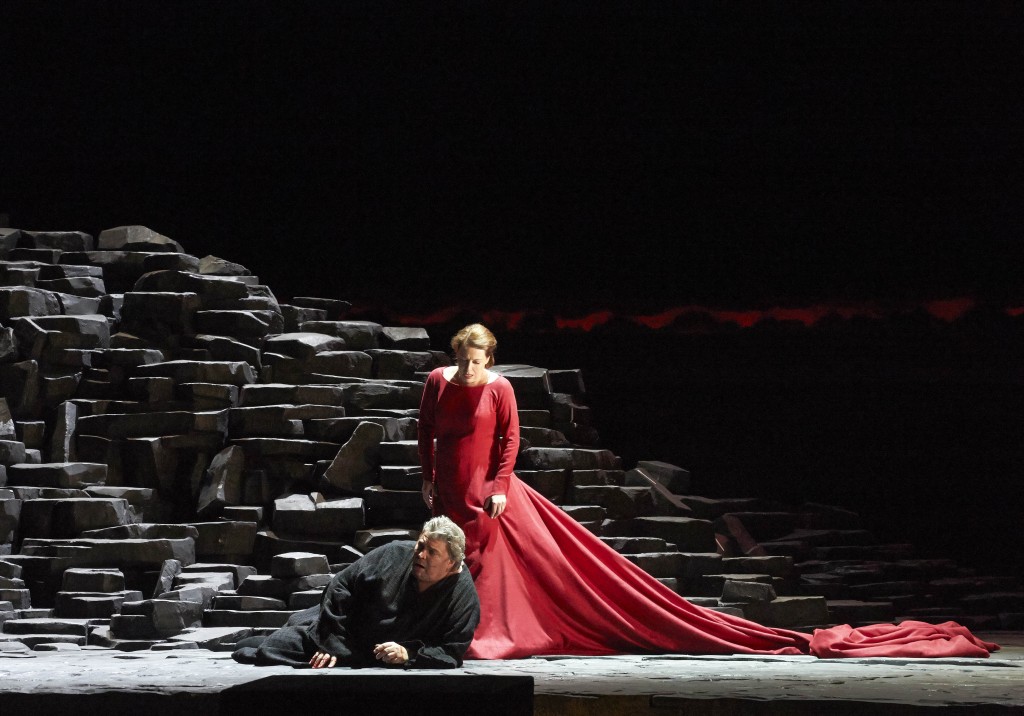 Last year I heard an exemplary concert performance of Wagner's Tristan und Isolde -Andris Nelsons conducting the CBSO, (including Stephen Gould as Tristan). But there is no comparison to a staged performance, Wagner's operas being conceived as Gesamtkunstwerk , total music theatre. And, CBSO notwithstanding, Vienna State Opera orchestra, under Frans Welser-Mӧst would have been inspired by the events on stage- that electric charge of live theatre! I've heard wonderful Wagner playing here – they've performed The Ring thrice in the last 4 years- but Vienna Staatsoper surpassed themselves.
The success of Vienna's new production also owes to David McVicar's highly effective staging. A ghostly hulk floats forward in the overture (Vorspiel), revealing the carcass of a ship from some antiquity. Seamen, like slaves, perform ritualised rowing movements front of stage. In Act 2 there's a mast, like 1930's RKO Radio Pictures -or is it a phallic transmitter?- dominating the rocky beach beneath. At the moment of their orgasmic union, brilliant white daylight is cast as King Mark's men invade the stage.
And Peter Seiffert (Tristan) and Nina Stemme (Isolde) are equal to their roles. Wagner demands not only the most powerful singers, but also great actors. As in the dramatic climax to Act 1: Love in death. Isolde drinks the poison draft she offers to Tristan, who had murdered her husband. But Isolde's maid knowingly switched the phial for a love potion. They run into each other's arms uninhibitedly, thinking they're dying -rekindling the passion since they first met (when Isolde had saved the wounded Tristan, but could have killed him.)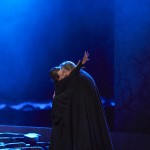 As the love potion takes effect, the two lovers unleashed, Sieffert and Stemme abandoned to passion, as if they're drunk on love. Not only does their singing reach ecstatic highs, they both enact their long suppressed passion as if both were in love for the first time. They are not beautiful, but embracing tenderly, they inspire the feeling of what it is to be in love. It was overwhelmingly moving; I was fighting back my own emotion.
My second visit, the last of the season, with Linda Watson as Isolde, offered a better view of the Act 2 stage, dominated by the tower, with concentric saturn-like rings- torches on each side -resembling a huge phallic symbol. The set is bathed in a moonlight silver. 'Put out the light!' Heavenly delirium! Mine and yours. 'Tristan mine: Isolde eternally yours!' Day and night are symbols. Tristan sings of the 'malicious day'. How could Isolde be his in the radiance of day? 'Heilige Dӓmmerung!' (holy twilight). Let day give way to death. Their love, could death ever stifle it? Seiffert is supreme, singing with matchless intensity.
'But how can Tristan die for love, if his love never dies?' Isolde interjects, 'But our love is called Tristan und (and) Isolde, is it not?'- Then (Tristan) we would die to be forever united, as one, living only for the night. Isolde sings the refrain, 'forever to be as one', and the two in unison, 'given only to each other' to Wagner's ever-surging climax. Finally, Tristan, 'Must I awake. Each day gives way to death!'(Oh! einige Nacht, süsse Nacht!').
The stage is now swamped by soldiers, King Mark's men, who take up position, with Tristan and Isolde front stage. It's superlatively staged – a barren rocky beach, the soldiers menacing in fierce medieval battledress. And Wagner, in a coup-de theatre, has timed Mark's arrival- he's supposed to be marrying Isolde, escorted by his loyal henchman Tristan- at the very moment of their exalted ecstasy. Coitus interruptus? No, not physically, but their spiritual love maybe even greater.
King Mark (Stephen Milling) sings at length of his betrayal by Tristan, the loyalest of the loyal – to emphasise how this former hero has been sunk by love. A tragic hero, (perhaps like Macbeth) fallen from grace, Tristan's betrayal is an act of high treason. Tristan is awakened to the brutal realities of the day, the stage brilliantly lit, as soldiers take up assault positions.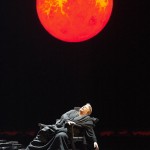 Act 3, the set like a Cornish cove, a rocky terrain, a red sun overhead- David McVicar's production is a triumph. A horn solo, like primeval bird song, is all we hear against this desolation. Returned to his lands, but Tristan is in another world, the vast realm of universal night. Kurwenal (Jochen Schmeckenbecher, a fine baritone) tries to wake his master, his hero. Sieffert, slumped in an armchair, all in black -dying of his wounds- is aroused by the announcement of a ship carrying Isolde. Tristan curses the day and the light. (An oboe introduction, spare strings , evoke desolation.) Isolde kommt, Isolde nӓht!' Seiffert, a very physical actor, comes to life, his face glowing. This most expressive, authentic of tenors, projects his vocal virtuosity onto another level. The light, when does it go out? Night is for lovers; love is in death. Oh, treue Isolde! Somehow, he's standing. Kurwenal, do you see it?- No, (to a mournful cor anglais), there is no ship.
Seiffert now on his knees, a dark figure, centre stage- pouring out his woes. 'To yearn and to die !' What balm can bring relief; he distilled the poison from his father's grief (his mother died giving him birth.) Seiffert is tremendous- ranting to the heavens like a King Lear, his silver hair like a raging lion. Furchtbares Trink, he curses the love potion- now poison- waiting for Isolde's no-show. In vain. He rises, and finally collapses, as Isolde's ship is sighted.
Isolde has come to die with him. But she's too late – Zu spӓt, trotziger Mann!– (obstinate man). She can't complain to him. Will he not take pity on her suffering guilt, just one more time? Death and damnation! The arrival of a second ship, with King Mark. Isolde, with the slain Tristan, they're lying together centre stage. In the closing Liebestod Isolde sweeps off into the night. Unbewusst, hӧchste Lust. The train from Stemme's red gown is the only colour against the stony grey background. Isolde sings of Liebestod, Oh, death, to sink into utmost oblivion.
Seiffert's is a titanic performance, but endearing in its vulnerable humanity. These lovers are all too fallibly human, unlike The Ring's gods of nordic folklore. Stemme proved that 'as Isolde, she is currently peerless, a supreme actress, with what it takes to overcome the vocal demands of this great role.'
Linda Watson replaced (30th June) the advertised Isolde at very short notice. Watson is a formidable Wagnerian performer, and impressed audiences as (Thielemann's) Brunnhilde in Vienna's 2011 Ring cycle. Watson, both vocally and enacting Isolde, met the extreme demands of the role in the first two Acts. Her rapport with Seiffert was remarkable, also the symbiosis of their body language. But, Linda Watson wasn't quite up to the closing Liebestod. She didn't have the power of a Nina Stemme, as my Viennese neighbour put it rather unkindly. Stemme whom I did hear (26th June) was indeed phenomenal. And Stemme sang all performances from the (13) June premiere, arriving in Vienna with a worldwide reputation as Isolde. But Watson, in fairness, wasn't even pre- advertised, and the role requires both legendary vocal power and stamina.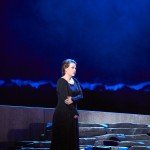 (30 June 2013) PR
Photos: Peter Seiffert (Tristan) and Nina Stemme (Isolde); Peter Seiffert (Tristan); Nina Stemme (Isolde)
(c) Wiener Staatsoper/ Michael Pӧhn